Meet The Off Leash K9 Team
Michelle Guarino is the owner of Off Leash K9 Training Syracuse, NY. She is originally from Vienna, Virginia and received her BS in Economics from Virginia Tech in 2006. From cats and dogs to ferrets and chinchillas, Michelle has kept various pets in her household since she was a young child. She had hoped animal care and training would be a path she could pursue as a career one day.
Michelle began formally working with animals 16 years ago, starting out as a veterinary technician in 2000. She has honed her skills in various sectors of animal care; from emergency response at a veterinary clinic to oncology at a specialty practice in Vienna, Virginia. In 2015 Michelle transitioned into the training sector and began working at the headquarters of Off Leash K9 Training. Since joining the OLK9 team, Michelle continues to receive positive feedback from her satisfied clients.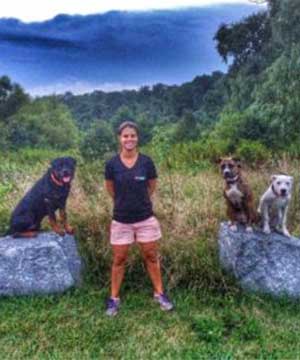 do you have questions for us?
Or Call us for a free consultation today!
About Off Leash K9 Training
Dog Trainers that Are Recognized Around The World!
Nick White is the Owner and Founder of Off Leash K9 Training.  Nick is a former US Marine and former US Secret Service. He currently has over 130+ dog training locations throughout the United States.
Nick is globally recognized as being one of the top dog trainers in the world.  He has 2 official world records in off leash obedience, named on Wikipedia as one of the top 20 dog trainers in the world, recently named top 10 trainer in the world by bestdogtrainers.org, has been featured in many magazines and shows, and he is regularly requested by the top celebrities and athletes! He has been called upon by people such as actor Ryan Reynolds, WWE's John Cena, MLB All Star Max Scherzer, UFC World Champion Jon "Bones" Jones, and many more!
You can visit our YouTube Channel and watch over 1500+ before/after videos of Nick and his team's work!  Off Leash K9 Training has more documented videos than any dog training business in the entire world!